Whilst I was commuing around day to day in my Lotus Europa, Colin Chapman and his trusty band of merry men were developing the next generation of Lotus cars starting with the front engined Elite followed by the next generation mid-engined sports car, the Esprit. Actually the impetus for this car came from Giorgetto Giugiaro who did a styling exercise on a widened Europa chassis prepared by Lotus. Giugiaro was still getting his Ital Design company off the ground and was looking for clients.
The result of the collaboration with Lotus was the stunning Esprit. The show car was productionized using Lotus new vaccum assisted injection molding process for the fiberglass body moldings, a newly designed Lotus backbone chassis, and powered by the new Lotus 907 engine. The car was introduced in 1976, and some time later, after James Bond made his special submarine transformer model famous, I bought a used Series 1 car.
Compared with the Europa, the Esprit was like a Cadillac - larger and heavier, with a softer ride. With the higher weight and tall gearing, it was more of a highway or GT car compared with the agile Europa. It was great for those drives up the coast to Carmel and Monterey.
The wedge. This was one of the early production vehicles of Giugiaro's "folded paper" wedge designs.
My car was the type 77 Series 1 US models. In those days the Lotus Series 1 cars were more like pre-production prototypes which gave the owner the priviledge of finishing the development - part of the charm for me!
The engine was Lotus 2 liter 4 cylinder unit with double overhead cams and 4 valves per cylinder. This was pure race spec stuff at the time. Remember carburetors?
I modified the engine with more aggressive cams, Weber carbs and a free flowing exhaust system which sounded fantastic.
The engine cover is removed in this photo. I designed a system which operated one of the radiator cooling fans when the transmission was in neutral to help with the marginal cooling. This would help keep temperatures down while sitting at a stoplight.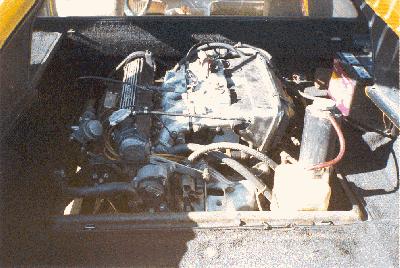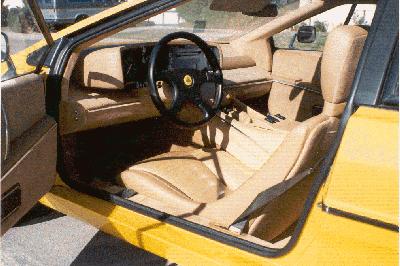 The futuristic interior designed by the Maestro Giugiaro. The instrument panel was mounted on a separate binacle. I replaced the wimpy original steering wheel with a beautiful Momo 4 spoke one.
The interior was originally fitted with a beige and a brown crushed velor which didn't wear very well in the California sun.
I reupholstered the interior with a quality velor on the panels, palamino leather on the seats, instrument binacle, and accents, and a quality carpet. The result was fantastic.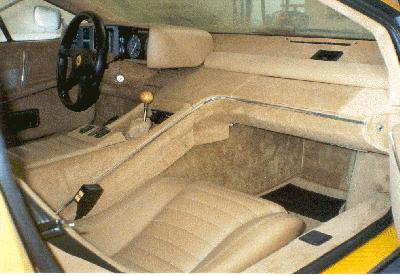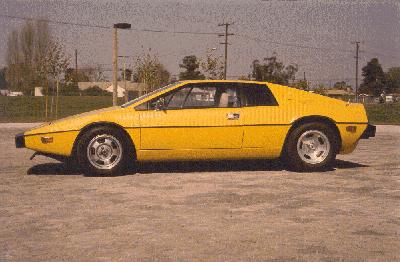 The main body of the car was made from two large molding that were joined at the rub strip running down the side of the car.
Other pieces finished off the body - Lotus typical "whittle to fit" scheme!